Kurohone Historical Museum (folk reference library)
Page number 1002108  Update day March 2, 2018 Print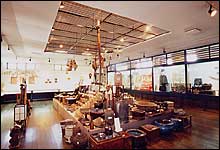 The second floor (the second exhibition room)
Production, occupation and food, clothing and shelter and the life courtesy greatly change and are the disappearing present. Ancestral our way of life is incised on these tools which loses turn, and retired, so-called folk material now. That is why nostalgia has thing on the heels of many emotions chest.
Main display

izume (canned foods)
Is thermal insulation by straw work wisdom of life, too?

Doll of three people trainer
(Gidayu doll of the Edo era)
Dolls which supported entertainment of people of old times retire calmly now

Tools of speculation
Sweat of life (stand come) soaks into logger saw which turned black

Fire fighter pump (water pistol)
It was the main force of firefighting before pump was introduced. It was located in each commuity, but located originally in Mizunuma spinning factory in the Meiji early years.

Pick off corn; plane
We picked off fruit in sharp part which was over corn in plug in pipe. It was had grain (it blows and breaks powder) which, actually, prepared picked off and was used for staple food.

Fried cancer (warming of liquor)
We used at time that people who went to speculation took a short break and put one cup of economy. Open fire was caused and we buried this in the ash and warmed up liquor.

Fuzz collecting machine
Silkworm grows up and we cover with straw when it becomes when we make cocoon and ride ni. Silkworm formed cocoon in straw mabushino, but we removed surface fuzz of cocoon before shipping and were used to clean.

Record player
It is antique of audio system. Music to listen to with this record player was thought probably to have had possibilities to have had many noises, but sound quality might have been more human than now.

Daily deposit money box
Cash did not circulate very much in mountain village before the war. For tax, event, money which we raised was saved in this by each house. Savings bank was small bank of communities.

Small brazier and foot warmer
Various invention was concentrated to warm the times, hands and feet without simple heating machine like the present age. Both small brazier and foot warmer are crystals of wisdom of old person.
We value your comments.
Inquiry
about this page
Board of Education Education Department lifelong learning section Kurohone public hall
〒376-0196 182-3, Kurohonechomizunuma, Kiryu-shi, Gunma
Telephone: 0277-96-2501 facsimile: 0277-96-2571
Inquiry, please use exclusive form.